2 Pack - 30 Cal Ammo Can Army Military M19A1 Metal Surplus Storage Box 7.62 MM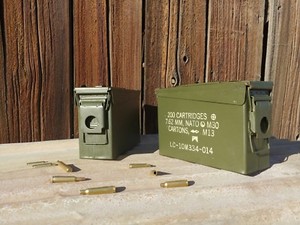 ---
30 Cal 7.62 Ammo Can Military This is a genuine US military surplus ammunition can (military designation M19A1), originally used to hold M19A1 30 Caliber 7.62 MM US Army Surplus Ammo Cans. These ammunition cans have been used out in the field by our beloved military. The cans have the standard latch/handle, rubber seal that gives an airtight and watertight seal. The cans are the standard military issue green. These ammo cans can be used for many things other than holding ammunition. They are great for storing items such as important paper, emergency kit, speaker box, tools, knife set, makes great men's tupperware, mail box, BBQ grill and etc. The ammo box will be EMPTY when it is shipped to you.Features •Measuring approximately: Inside measurements  10-5/64" x 3-7/16 "x 6-15/16"  Outside measurements 11" x 3-13/16" x 7-1/4"•Material: 100% Steel•Waterproof Seal for a Complete Waterproof Container•Weight Empty: 12 Pounds•Color: OD Green •Condition: Great Condition•Made in USAItem ConditionThese ammo cans have been acquired from the US military in bulk, and look basically brand new. Some cans may have some very minor surface scratches from handling or surface rust around the edges or sides. I can not describe every possible scratch or rust PLEASE understand. Latches and seals are in great shape. Some cans may have been touched up with military spec spray paint. ShippingWe DO NOT ship to PO BOXES so please provide a street address.If it shows "free shipping" then Shipping only applies to 48 Continental United States. Otherwise Buyer pays 's actual calculated shipping cost (weight, dimensions and your zip code).       USA – USPS, UPS Ground, and FedEx                           Ground are used.

Require a different shipping method? Just ask! 

We do reserve the right to change your shipping method to a faster shipping method if the shipping cost will cover it. If you do not wish to have your shipping method switched to a faster method, please let us know. Consult your local, state, and federal laws before ordering. 

Contact us FIRST if you are not satisfied with your purchase.  Please don't leave negative feedback or open a case, when we can resolve most issues within 24 hours or less. Our goal is to have you happy, come back for more.